The snorkeling experience in Perhentian island is absolutely epic! 
That's one thing you don't want to miss when visiting Perhentian.
Below are the details of popular snorkeling points in Perhentian.
If you are going to Perhentian, these snorkeling points should be in your itinerary.
Shark Point
As the name suggests, this is a snorkeling point to watch sharks.
The chance of seeing small sharks at this snorkeling site is very high in Perhentian high season.
Turtle Point, Turtle Beach     
Go sea turtles at Turtle Point.
Sea turtles are very common in Perhentian.
Besides sea turtles, you can also see plenty colorful small fishes swimming around you.
Turtle Point is one of the most popular snorkeling points in Perhentian.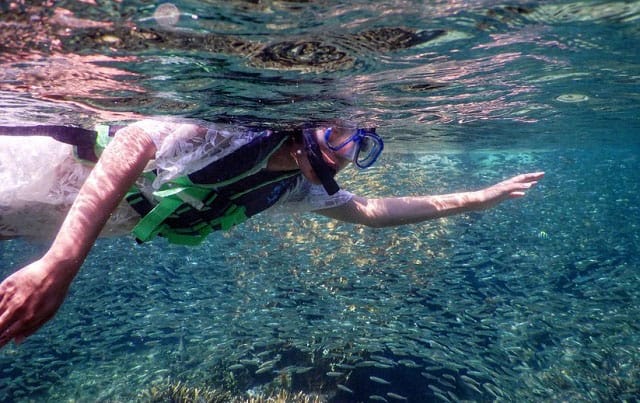 Coral garden, Rawa Island, Teluk KK, Tokong Burung, Serenggeh Island
Those are marine area nearby Perhentian island.
Rawa island is a perfect island for snorkeling near Perhentian.
You can find the most beautiful coral here at Seranggeh somewhere Pulau Rawa.
If you picked Perhentian Snorkeling Packages, these snorkeling points should be mostly included.
Nemo Garden
You will see a lot of Nemo fish in Nemo Garden.
You will see dense large corals, Nemo swimming around briskly and other small fish jiggling on the seabed.

Island Hopping
The island hopping package include snorkeling activities in 3 islands: Perhentian, Redang, and Lang Tengah.
It is highly recommended for energetic snorkeling fans.
You could add on this 3 Island Hopping Trip when you purchase Perhentian resort package.
Read more: Perhentian vs Redang>>
Conclusion
Perhentian island is famous for snorkeling because there's no big boat around.
Plus the sea water is extremely clear in both Perhentian Besar and Kecil island.
Above are some famous snorkeling spots to encounter fabulous marine lives in Perhentian.
There are a lot other fun activities in Perhentian as well.
Wish you have a fun trip in Perhentian!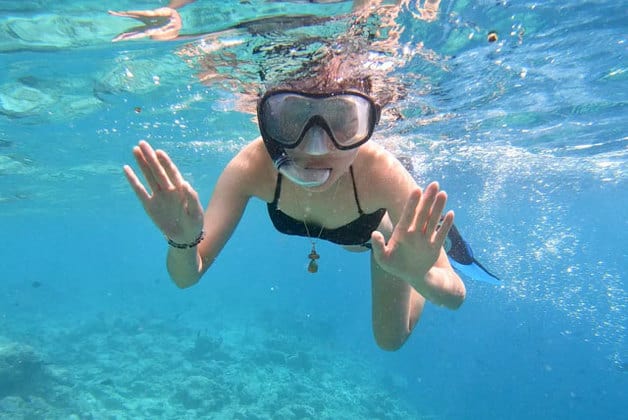 Read More:
Pulau Perhentian Jetty and Boat Schedule
4 Steps to Plan a Perhentian Trip
3 Types of Perhentian Packages
Top 8 Things to Pack for Perhentian Vacation
Top 6 Reasons Why You Should Visit Perhentian
Which snorkeling point have you visited yet?
Comment to share your experience with us~