Perhentian island is a must-visit place in Kuala Terengganu, Malaysia.
The water there is crystal clear and sparkling under clear sunny sky.
Here are four transporting methods to get to Perhentian island
Method #1: By Flight
It's the quickest way to get to Pulau Perhentian.
Going Perhentian by air is time-saving and comfortable.
Airport
There are 2 airports in Kuala Terenganu.
They are TGG Airport and KBR Airport.
TGG airport is the arrival airport for Redang Island and Lang Tengah Island.
KBR airport is the arrival airport for Perhentian Island.
Kota Bharu (KBR) Airport
KB airport stands for Kota Bharu airport. The code of it is KBR.
It is the nearest airport to Perhentian Jetty.
It is about 1 hour driving distance between Kota Bahru airport to jetty.

Flights From KL to Perhentian
| AirAsia | Depart KUL | Arrival KBR |
| --- | --- | --- |
| AK 6430 | 06:35 AM | 07:35 AM |
| AK 6432 | 08:00 AM | 09:00 AM |
| AK 6434 | 10:15 AM | 11:20 AM |
| AK 6436 | 01:25 PM | 2:25 PM |
Currently only AirAsia has flights from Kuala Lumpur to Perhentian island.
You better arrive KBR airport before mid noon.
There are more flights in Perhentian High Season than Low Season.
Read more: Perhentian Island Best Season>>
Airport to jetty Transfer
After arriving at Kota Bahru airport, you could get to jetty by car.
Option 1) you can take a grab or taxi to get to Perhentian Kuala Besut jetty.
Option 2) you can add on the land service when you book Perhentian Island Package , the price is around RM 45 to RM 50 per person for 2 ways.
Read More: 3 Types of Perhentian Pacakges>>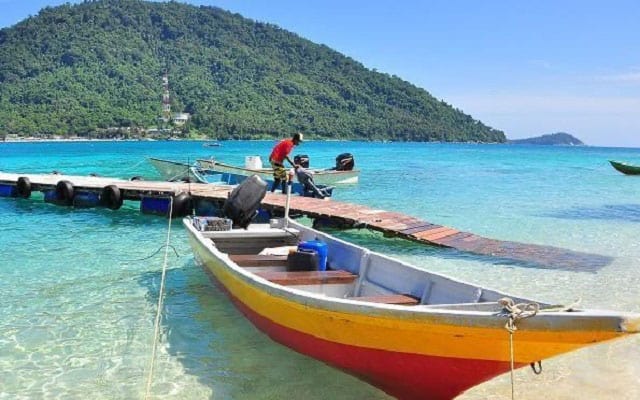 I advise you choose option 2, because the price is reasonable and it's very convenient.
The driver will hold a board with the name of the resort, and wait you at airport arrival lane.
On your check out day, the driver will take you from Perhentian Perhentian Jetty back to KB airport.
Flights From Perhentian Back to KL
| AirAsia | Depart KBR | Leave Perhentian |
| --- | --- | --- |
| AK 6435 | 11:40 AM | 08:00 AM |
| AK 6437 | 02:50 PM | 12:00 PM |
| AK 6439 | 05:15 PM | 12:00 PM |
| AK 6441 | 06:05 PM | 12:00 PM |
| AK 6443 | 09:55 PM | 04:00 PM |
| AK 6447 | 10:45 PM | 04:00 PM |
There are 3 scheduled speedboat time from Perhentian island back to Kuala Besut Jetty.
You could choose any one boat above according to your flight time.
Read more: Perhentian Boat Schedule>>

Method #2: By Bus
Taking bus to Kuala Besut Jetty is another popular method to Perhentian jetty.
Bus to island usually depart at night and arrive next day's early morning.
The ideal bus departing time is between 9-11pm.
The duration from KL to Kota Bharu takes about 7 hours.
Kuala Besut Bus Terminal
You will take off bus at Kuala Besut Bus Terminal and walk to jetty yourself.
You could buy bus ticket at bus terminal.
Also, you can buy bus ticket from website, such as BusOnlineTicket, Easybook, Redbus.

Jerteh Bus Station
If you cannot buy bus ticket to Kuala Besut Bus Terminal, you can choose Jerteh Bus Station instead.
When you take off bus at Jerteh bus station, you need to take a taxi or grab to Perhentian Kuala Besut jetty.
Method #3: By Car
There are car park lots near Kuala Besut Jetty.
The parking fees are around RM 10 per day.
The driving distance from KL to Kuala Besut is about 7 hours.
Remember take along some snacks to satisfy your sweet tooth.
Read more: Top 8 Things to Pack for Perhentian Vacation>>

Method #4: Stay Overnight at Jetty
If you feel tired for driving such long hours,
you could reach Kuala Besut jetty 1 day earlier, and sleep overnight at the hotel nearby jetty.
You could recover from the tiredness of transporting,
and have more fun on the next day's Exciting Activities in Perhentian Island.
Read more: Top 5 Snorkeling Points in Perhentian>>
Conclusion
 Perhentian Island is a wonderful vacation place.
There are several transporting ways to get to Perhentian Island.
You can arrive Kuala Besut Jetty by Flight, Bus, or Car.
Remember to reserve more time in transporting in case of traffic jam.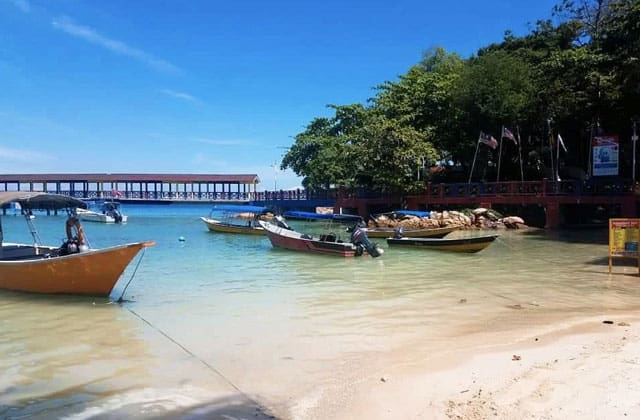 Read More:
Top 10 Perhentian Best Resorts
4 Steps to Plan a Perhentian Trip
Top 6 Reasons Why You Should Visit Perhentian
Share this post to your friend to let them know how to get to Perhentian Island.
If you have any experience or other ways to get to Perhentian, please share with us in the comment!