Perhentian Island is one of the most beautiful and quiet places to travel for leisure and scuba-diving in Malaysia.
It has beautiful beaches, and you will get great snorkeling and diving experience.
This article is about Perhentian Island Jetty and Boat Schedule.
Kuala Besut jetty is Perhentian's entering jetty.
Kuala Besut Jetty Address
No. 2B, Bangunan 2 Tingkat MDB,
22300, Terengganu
Speedboat 
You will get to Kuala Besut jetty on your own first.
How to Go Pulau Perhentian From KL, Learn Here.
From Kuala Besut Jetty to Perhentian island, it takes about 30 – 45 minutes.
Same as Redang Island, Perhentian Boats enters to Island every day.
Boat schedule varies in different resorts.
The speedboat could carry maximum 12 people's capacity.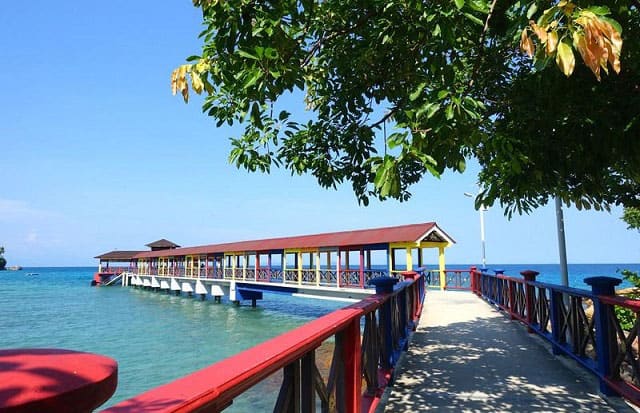 Enter Perhentian
Each Perhentian Resorts have its own boat schedule.
Most resorts' boat times are flexible, such as
While other resorts' boat departs from Kuala Besut jetty to Perhentian at fixed schedule, Such as
Below is boat schedule enter Perhentian Island.
Kuala Besut Jetty
To
Island
Barat Perhentian
8:00 - 12:00
Fauna Chalet
8:00 - 12:00
Flora Bay Resort
8:00 - 12:00
Awarna Resort
8:00 - 12:00
Coral View Resort
9:30 - 17:00
PIR Resort
9:30
11:00
14:00
16:00
Sharila Resort
9:00 - 16:00

Mimpi Resort
10:00
12:00
14:00
16:00
Ombak Resort
8:00 - 17:00
Cozy Chalet
10:00-17:00
Marine Park
A marine park ticket is must to be paid when you are at Kuala Besut jetty.
Perhentian marine park is a protected area that is conserved by Malaysia government.
It is an Amazing place to visit!
Marine park is one of the Top 5 Snorkeling Points in Pulau Perhentian.
All visitors shall pay a fee for entering it.
You will be asked by jetty staff to pay for marine park ticket before you get into speedboat at Kuala Besut jetty.
The price of Marine Park ticket as below:
Malaysia Citizens: Adult RM 5 per person; Child RM 2 per person.
Foreigners: Adult RM 30 per person; Child RM 15 per person

The Best Boat Time
The Earlier of you getting into Perhentian, the longer leisure time you could stay inside Perhentian.
So I advise you take earlier boat to Perhentian, especially Pulau Perhentian High Season .
If you take boat at late afternoon,  maybe you will miss the Lunch or snorkeling activity on day 1 itinerary.
You better arrive earlier to avoid jam, especially in Public Holidays,
Depart Perhentian 
On the last day of your Perhentian trip, you will take speedboat from Perhentian back to Kuala Besut Jetty.
Below is the boat schedule leave from Perhenitan island back to Jetty.
From Perhentian
Leave
Island
Barat Perhentian
9:30-16:00
Fauna Chalet
9:30-16:00
Flora Bay Resort
9:30-16:00
Awarna Resort
9:30-16:00
Coral View Resort
8:00
12:00
16:00
PIR Resort
8:00
10:00
14:00
16:00
Sharila Resort
8:00
12:00
Mimpi Resort
8:00
10:00
12:00
16:00
Ombak Resort
8:00
12:00
15:00
Cozy Chalet
8:00
12:00
16:00
Conclusion
Perhentian island resort's jetty is  Kuala Besut jetty.
Trip to Perhentian island from Kuala Besut jetty takes about 35 minutes.
We recommend you to arrive at jetty at morning and arrive Perhentian by noon.

Read More:
Top 3 Types of Perhetnian Pacakges
4 Steps to Plan a Perhentian Trip
Top 10 Perhentian Best Resorts
7 Best Things to Do in Perhentian
Top 6 Reasons Why You Should Visit Perhentian
Have you been to Perhentian Island before?
What's your impression of Kuala Besut jetty and their speedboat?