The tranquil Pulau Besar allows you escape the hustle and bustle of the city.
The scenery and beach on the island are the most unforgettable.
Besides of the stunning views, there are plenty fun activities in Pulau Besar as well.
The abundant activities is one of the reasons why people love visiting Pulau Besar.
1. Snorkeling
Enjoy being surrounded by Pulau Besar's abundant marine life.
You will meet and greet lot of colorful fishes, coral and with best luck, sea turtle! 
There are snorkeling packages available in Pulau Besar,  you could add on the snorkeling activities when you buy the trip.
Read more: Pulau Besar Jetty>>
2. Island Hopping 
There are 2 other islands near Pulau Besar.
You could have island hopping trip in Pulau Tengah and Pulau Hujung. 
All 3 islands have good snorkeling spots.
3. Diving
Scuba divers love Pulau Besar too.
Diving into a deep level of the sea should on your bucket-list, and Pulau Besar is always people's preferred paradise to dive.
For the best experience in sea activity, you better go visit Pulau Besar in its Best Season. 
Read more: How To Get To Pulau Besar >>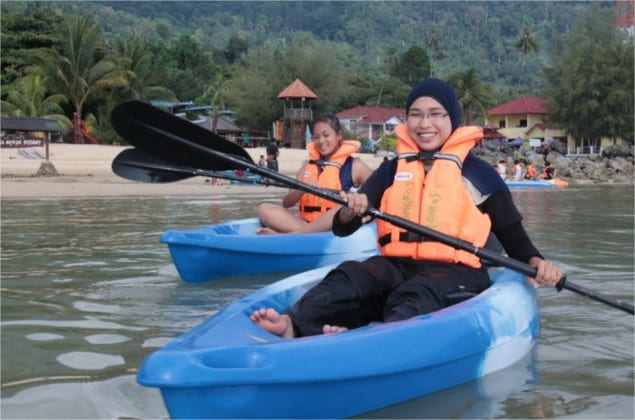 4. Kayaking
Enjoy being surrounded by the ocean.
Watch the underwater world that you can't watch on the shore.
5. Jungle Trekking
You should be up for some hiking and walking through the jungle.
What Pulau Besar brings to you is the natural and pristine scenery.
The leader will take you to explore another world in the jungle.
Read more: Top Resorts in Pulau Besar >>
6. Chill on the beach
Sitting on a beach chair, and appreciate the sunset or sunrise.
Pulau Besar has white as powdery beach, and vitamin sea clear water.
The beautiful sight makes you breathless.
Most resorts in Pulau Besar are just besides the beach.
When there are no tourists, it's like being on your own private beach.
7. Cycling & Beach Volleyball
You can go for a cycle around Pulau Besar.
Also, you can play beach volleyball on beach if you want some excitement.
It is one of must-to-do activities to discover other hidden gems of the island.
Read more: Besar or Tioman>>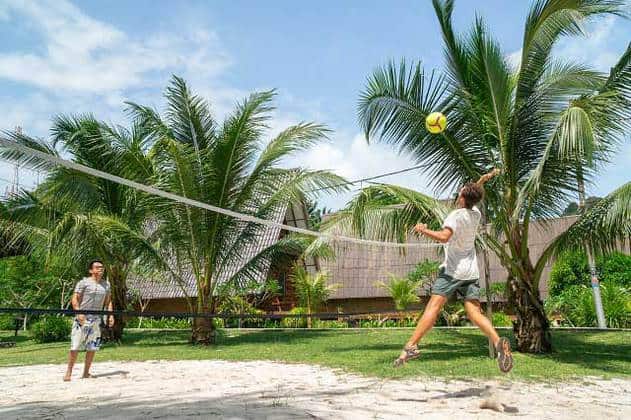 8. Night Life
You could spent your nights laying at Pulau Besar private jetty, and star gazing till midnight.
Conclusion
Pulau Besar is a good place for a relaxing weekend.
Activities available are Cycling, Fishing, Island Hopping, Jungle Trekking.
To Swim, Snorkel or Paddle over the turquoise water and colorful reef.
You will have an unforgettable beautiful memory in Pulau Besar!
Read More:
Topic 2: How To Get To Besar Island
Topic 3: Best Season To Visit Besar Island
Topic 4: Pulau Besar Resort List
Topic 6: Things to do in Besar Island
Topic 7: Top 5 Reasons to visit to Pulau Besar
Popular Besar Resort Package:
What activity do you like the most in Pulau Besar?
Comment and share your insights!