Sibu Island is a small but stunning island.
There's long golden sandy beach along the sea band.
There are many rock caves along the coast; the blue sky and white clouds, the beautiful scenery, and the clear sea water are like a painting.
There are very few resorts on the island.
But the resort's in Sibu island facilities can meet the needs of most tourists visiting here.
Accommodations
I will share two resorts which are the most popular 2 among tourists.
Sari Pacifica Sibu Island Resort & Spa (3D2N Package starts from RM 370 per person.)
Rimba Resort (3D2N Package start from RM 470 per person)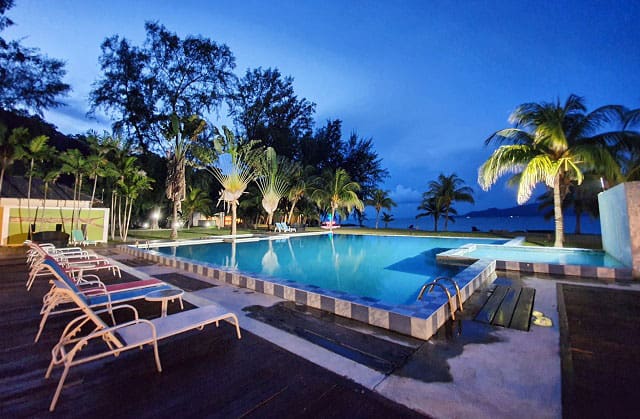 There is one of the largest resorts on the Sibu island,
It's a 4-star resort, the price is relatively economical.
Sari Pacifica Sibu Resort has private beach, nice infinity pool and other facilities.
Accommodation comes with air conditioning.
Rooms are with garden, hill or ocean view.
Staffs in Sari Pacifica Sibu Resort are friendly and helpful.
The room is spacious, tidy and clean.
The bathroom is big.
Overall Environment is chill and relaxing.

It's a 4-star Resort in Sibu island.
This bamboo-built resort is of Kenyan architectural style.
The architectural style is taken from the modern tropical concept.
Rimba Sibu Resort is in line with the budget of most tourists.
Package prices are economic.
Spa and other facilities are available in the resort.
All accommodations comes with fan, they are garden and ocean view.
The food is good, the beach in front of it is clean.
Staff really friendly and helpful.
No air conditioning, but the sea breeze was enough to keep you cool.
Overall, Rimba Sibu Resort is comfortable chalet with authentic rural atmosphere.

Conclusion
Sari Pacifica Sibu Resort and Rimba Sibu Resort are 2 of the most popular resorts in Sibu island.
They are both comfortable resorts, but with different styles.
If you are into modern style, you can take Sari Pacifica Resort & Spa Sibu Island.
If you want to experience the most primitive life, you can go with Rimba Resort.
Read More:
Topic 2: How to get to Sibu Island
Topic 3: Best Time to Visit Sibu Island
Topic 4: Top Resorts in Sibu Island 
Topic 6: Things to do in Sibu island
Popular Sibu Resort Package: