This post is also available in:
English
中文
Tioman island is a beautiful island in Johor. It is calm and heavenly.
For Tioman you can either take a ferry from Mersing Jetty or Tanjung Gemuk jetty.
It's about 45 mins to 1 hour ferry drive from Jetties to Tioman Island.
There are several Snorkeling and Diving packages in Pulau Tioman.
This article will discuss 4 different kinds of packages available in Tioman Island.
1. Snorkeling Package
2. Diving Package
3. Honeymoon Package
4. Room with Breakfast Package
1. Snorkeling Package
This package is suitable for all people
If you are planning a family trip, snorkeling package is most recommended.
Everyone could join and every Tioman resorts have such package available.
You will experience the stunning colorful fishes and coral hidden below sea water.
Tourists who take this package will stay in Tioman island for 3 days 2 nights (3D2N)  or 4 days 3 nights (4D3N).
Read more: Island Package 4D3N or 3D2N?
1.1 Package Include
Tioman snorkeling package will include 2 or 3 nights accommodation,
3 meals per day with BBQ dinner, and snorkeling trip.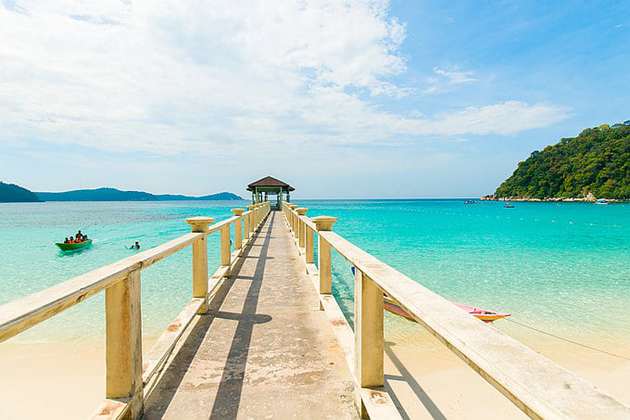 1.2 Snorkeling Package Exclude
Lunch on check in day will not be provided.
Since some people take ferry in the morning, some take afternoon one.
But you will always find some good restaurant nearby jetty.
And the 2 ways ferry ticket you need to purchased on yourself in advance.
You could buy tioman ferry ticket from ferry company or travel agency.
Ferry ticket price is about RM 95 per adult, and RM 85 per child.
Bluewater and Cataferry are top two Tioman ferry operators, you can buy ferry ticket from their website.
Read more: Tioman Bluewater Express vs Cataferry>>
1.3 Snorkeling Points
Tioman popular snorkeling points are around Renggis Island, Tioman Island itself, Tioman Marine Park, and Coral Island.
You will get on speedboat and go snorkeling together with people who are staying in the same resort.
You would spot many sea animals near to the shore itself when you do snorkeling.
Such as baby sharks, nemo, beautifull corals.
Read more: Top 7 Reasons Why You Should Visit Tioman>>

2. Diving Package
It's all about diving! Scuba Diving is a must have activity in Tioman.
There's a nice wreck dive site here!
To get this package you need to have a diving certificate.
Some resort will also have diving course for tourists.
There are OWC(Open Water Course) and AOWC (Advanced Open Water Course) available.
Tioman has a lot good dive spots for new divers.
Renggis is also a nice dive site to see the underwater treadmill.
Remember get to Tioman at the best season of the year, you will see the most amazing view here.
3. Honeymoon Package
Honeymoon package include room decoration, flower, cake, and candlelight beach dinner.
Fresh air and wave crashes are incredibly romantic for loving birds.
Tioman is a nice place to rest our mind with your partner.
Read more: 5 Steps to Buy Tioman Package>>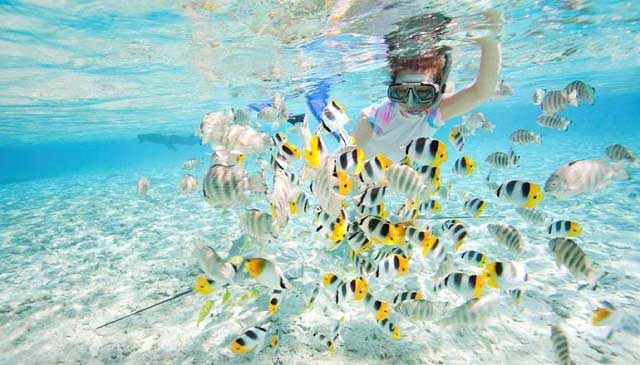 4. Room with Breakfast Package
As shown in the name, this Tioman package only include accommodation and breakfast.
Visitors of Tioman have plenty of spots around to visit. The surroundings are magnificent.
Favorite activities in Tioman include snorkeling and scuba diving, trekking in the jungle, touring the island on a motorbike or bicycle as well as visiting waterfalls.
If you're feeling adventurous, get your hiking boots ready as you jungle trek through its magnificent mountains.
There are a couple of good seafood restaurants which serves good and affordable food.
You could visit the other villages in Tioman as well.
​Conclusion
Tioman Island is a Great place to visit for nice long beach and crystal clear water.
The water in Pulau Tioman is clear and amazing. Snorkeling is great.
There are 4 packages you could choose from.
Scuba Diving Packages and Snorkeling Package are the ideal package, to enable you truly soak in Tioman Island.
Couples could take Honeymoon Package for their anniversary, and Room with Breakfast Package give you more flexibility for more Tioman activities.
Come to Tioman!
It's the best places for a tropical holiday in Malaysia!

Read More:
How to go Tioman Island from KL
Tioman Island Jetties and Ferry
Top 10 Resorts in Tioman Island
Top 9 Best Things to Do in Tioman
Top Tioman Packages:
You will choose snorkeling or diving package?
Share with us your experience in the comment.