Tioman Island a great place for a short holiday in Johor Malaysia.
Among all other islands, Pulau Tioman is famous for Scuba diving and Snorkeling.
Tioman offers many activities such as diving, snorkeling, trekking, sitting on the beach enjoy the sunrise or sunset.
This article explains the top 9 amazing activities of tourists in Pulau Tioman.
1. Snorkeling
Tioman is a natural place with great views and crystal clear sea water.
It is a beautiful Island for snorkeling and beach activities.
In Tioman peak season, you will see the rich marine life while snorkeling.
You can snorkel and see baby sharks, nemo, beautiful corals.
It's suitable for all age as long as you are comfortable with sea water.
Every tioman resort has 3D2N snorkeling package available.

2. Diving
Scuba diving is the most best part of Tioman!
Diving is one of the 5 reasons people love Tioman Island.
The seafloor is so beautiful with beauty of corals & fishes.
There are marvelous diving spots in Tioman where you can dive freely and have a whale of time.
Tioman Island resorts offer diving packages or diving courses, such as OWC(Open Water Course) or AOWC (Advanced Open Water Course).
Read more: Top 4 Types of Tioman Packages>>
3. Jungle Trekking
The most popular hiking route is from Tekek to Juara Village.
This small jungle surrounds Tioman has perfect view.
You can take a ride alone or accompanied by a guide.
Discover the plenty of interesting wildlife as you hike along woodlands.
Don't forget to pack sports shoes, sports suits in your luggage.
Read more: Top 8 Things to Pack for Island Vacation>>
4. Kayaking
You could rent kayaks from resort or diving shop in Tioman.
You get to enjoy the sea creatures surrounded by the sea, and explore the shore and beaches.
Read more: Tioman Island Jetties and Ferry >>
5. Visit Other Tioman Villages 
There are 8 villages in Tioman island.
You could get around some village with your foot, and for others you need to take ferry, bike, taxi or water taxi.
Every village is different and contain different facilities.
You can ride motorcycle to travel around as well.
6. Marine Park Infor Centre
The Tioman Marine Park is a coral sanctuary at Tekek located along its northern edge,
with an information center housed on the beach to learn about Pulau Tioman's underwater heritage.
There is a great number of marine fish.
Entrance to the marine park and information center is free.
Read more: 5 Steps to Buy Tioman Package>>

7. ATV Activities
ATV stands for "All-terrain vehicle".
You could ride on it along jungle trekking and explore the green forest environment for a few hours.
Paya Beach Resort has ATV provided for this activities.
You could rent from other stores or resorts as well.
Read more: Tioman Bluewater Express vs Cataferry>>
8. Bicycle Riding
In Tioman, you could have some healthy activities, such as bicycle riding.
All you have to do is to rent a bike and enjoy the breeze! 
This is a fantastic way to experience with your friends.
You explore a very chill laid back kampung lifestyle of Tioman.
Read more: Perhentian vs Redang vs Tioman >>
9. Duty Free Shop
You could do some duty-free shopping in Tioman.
It is a duty-free island.
You could get chocolate or alcohol at a lower price.
The largest duty free shop is located at Tekek Village.
Conclusion
Tioman is one of the best island in Johor Malaysia for Snorkeling and Diving activities.
It has excellent spots for relaxation, beautiful scenery, amazing sunset, perfect hideout, and cool waterfall.
Tioman Island is an ideal place for island holiday!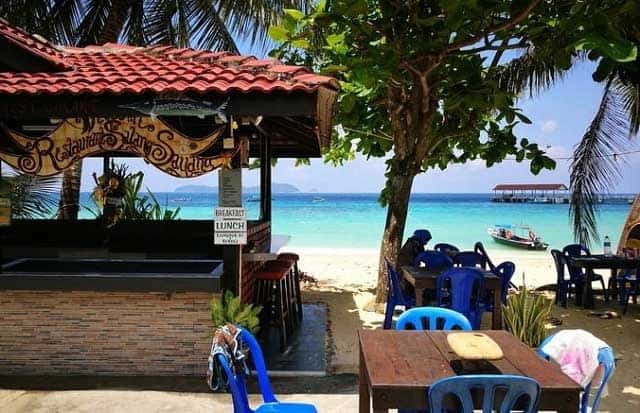 Read More:
Tioman Ferry Bluewater vs Cataferry
Tioman island Jetties and Ferry
Best Season to visit Tioman island
Top Tioman Packages:
What activities do you like the most in Tioman?
Comment and share it with us!