Pemanggil Island, known as a fishing paradise, has a beautiful underwater world.
It has most pristine atmosphere and has very few resort operators. 
The most popular resort in Pemanggil island is Lanting Beach Resort.

Lanting Beach Resort
Location
From Lanting Beach Resort, beach is 15 minutes walk away.
The resort was built on the hill side with most of it are rocks.
Do expect to climb some staircase when you go from room to room and dining hall or BBQ site.
Package
Lanting Beach Resort's package are economic and budget-friendly.
The package includes accommodation, 3 meals per day, snorkeling or fishing activities at the jetty.
You could add on other activities in Pemanggil, such as deep see snorkeling (to visit 6 more snorkeling spots), diving and island hopping.
Lanting Beach Resort offers the opportunity to visit nearby islands such as Aur Island, Dayang Island and Lang Island as well.
Accommodation 
Lanting Beach Resort mainly provides unique "kampung-style" accommodation.
Rooms are with hill or ocean view.
Food
The food serve in Lanting Beach Resort are really delicious and variety of Malay food.
Most are local homemade cooked food.
Staff
The staff in Lanting Beach Resort are friendly and helpful.
The resort staff really do their best to accommodate whatever the guest request.
You will feel warm welcomed here.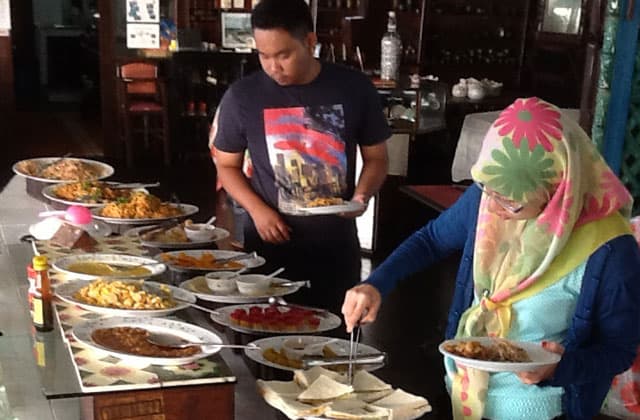 Facility
Another part of enjoy the kampung feel is that no heater, no air-con was available.
The fan will keep you cool at night.
As for water activities,  Lanting Beach Resort has good dive center team, fantastic sea view and dive site.
Conclusion
Lanting Beach Resort lets tourists enjoy the most simple life on the Pemanggil island.
If you want to escape from modern life to village feeling, this is the place.
Pemanggil island is good for relax and stay cation with friends or family to gather.

Read More:
Topic 1: Pemanggil Jetty and Ferry
Topic 2: How to get to Pemanggil
Topic 3: Best Time to Visit Pemanggil
Topic 4: Best Resort in Pemanggil
 Topic 5: Things to do in Pemanggil