Kapas island is a small, pristine and tranquil island located in Terengganu.
It is still has a rural atmosphere and not too commercialized.
Transport to Kapas is quite simple. There are lots of things to do in Kapas Island.
Resorts in Kapas are in reasonable price, they have affordable Kapas Packages available.
It is a nice diving and snorkeling paradise.
This article will explain Kapas island jetty —Marang Jetty in details.

Marang Jetty address:
Arked Jeti Pelancongan,
21600 Marang,
Terengganu
Google Map: https://goo.gl/maps/4JhmpX2kMvh6FYST9
From Marang Jetty To Kapas Island
It is very close from Marang Jetty to Kapas Island.
The speedboat takes about 20 minutes.
Generally, Kapas island package include boat tickets, so you don't need to buy boat ticket yourself separately.
Terengganu has two jetties with similar name.
Don't get confused by them.
Marang Jetty is for Kapas island, while Merang Jetty leads to Redang.

Kapas Boat Schedule
Boat transfer between Marang jetty to Kapas island is everyday from 9AM to 5PM.
The schedule of boat in Kapas is as below. Two hours gap till next boat.
Table IN
Table OUT
I advise you choose morning boat to get into Kapas island.
You will have more time to rest or explore the island.
If you choose boat in the afternoon heading to Kapas, you will miss some activities and lunch meals on day 1.
Read more: Activities in Kapas Island>>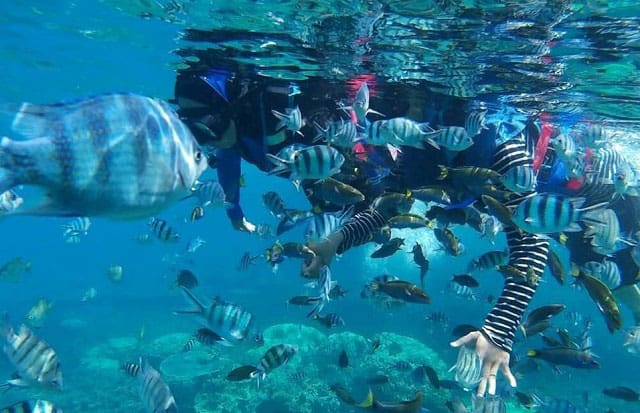 Kapas Marine Park Ticket
Kapas Marine Park fees are required by all tourists.
The marine park is to protect and conserve various habitats and marine aquatic life.
There are a lot of corals and nemo fishes where you will see it at a really close distance in Kapas island.
You need to pay this fee at the counter after you arrive at the Marang Jetty of Kapas island.
Price
Marine park ticket price is reasonable.
Malaysian: is RM 5 for adults; RM 2 for children.
Non-Malaysian: RM 30 for adult; RM 15 for children.
read more: Best resort in Kapas Island>>

Conclusion
Kapas island is one of the best place for snorkeling in Malaysia islands.
The jetty leading to it is Marang Jetty.
Just a mere 15-minute boat ride and you will find yourself in somewhere in paradise. 
For travelers who want peace and quiet,Kapas island is where you should go.
Read More:
Topic 2: How to get to Kapas Island
Topic 3: Best Seasons in Kapas
Topic 4: Best resort in Kapas Island
Topic 6: Activities in Kapas Island
Top Kapas Packages:
Have you been to Kapas island before?
How much do you like Marang jetty?
Comment to let us know!