Redang Island is a beautiful island and it treasures many wonderful marine lives.
This article is about the 4 transporting methods to Pulau Redang.
We need to arrive at Redang's Jetty by ourselves. 
Then take ferry or speedboat to get into Redang island.
There are 4 methods to get to Redang Jetty
1. To Redang by Flight,  
2. To Redang by Bus,
3. To Redang  by Car.
4. Arrive 1 Day Earlier
Method #1: To Redang by Flight
If you are a lazy person like me, 
I advise you to get to Redang Jetty by flight. 
It is time-saving and comfortable.
1.Airport
Redang island airport is Kuala Terengganu (KT) airport. 
The code of it is TGG.
If you are in KL, 
departing airport could be KLIA, KLIA 2 or Subang (SZB) airport.
Airlines that have flights from KL to Redang include 
AirAsia, Malindo, Malaysia Airline, and Firefly.
2.Flight Time
The best (earliest) ferry time is 9am, 
so you will need to take an early morning flight from KL to KT airport. 
When it is Peak Seasons of Redang island,  there are many flights to and from KT Airport every day.
The ideal flight's arriving time is before 8:15am.
There are many Flights to Redang Island from KL.

3.From Redang Airport to Jetty
After arriving Redang airport, 
you need to transport to Redang jetty to take boat, Shah Bandar Jetty or Merang Jetty. 
You can take a grab or taxi to get to Redang jetty. 
Redang airport is about 30 minute driving distance to Redang Jetty.
If you are in a group of more than 2 people, finding a grab/taxi is cheaper.
If you are in a group of less than 3 people,  
You better buy Redang airport to jetty transfer from your travel agency.
4. Add On Redang Airport Transfer
This is an optional add on service when you buy Redang Package.
Price is around RM30 to RM 40 per person for 2 ways. 
Driver will wait you at Redang airport,
 Then they drive you to jetty on check-in day. 
On the check out day,
 they will take you back from jetty to airport. 
If you just need 1 way pick up,
 half price it is.
Driver will always get you to Redang Jetty on time.
All Popular Redang Resorts provide KT Airport to Shah Bandar Jetty Pick up Service.

Method #2: To Redang By Bus
Bus is perfect for budget backpacker or travel in big group. 
The arriving bus stop is (KT bus terminal):
Bus Express Terminal Kuala Terengganu.
Usually the bus departs at 1 night before,
and arrives the next day early morning. 
The schedule is perfect for you to catch early ferry.
1.Who Choose Bus
Bus is perfect for school trip, company trips.
It is budget friendly.
It's more private and have more flexibility in schedule.
You can buy bus ticket at the nearest bus terminal.
Taking bus to Redang is a bit tiring compared to Redang by flight.
Because you will sleep on the bus for a whole night.
2.Bus for Shah Bandar Jetty
If your resort is departing at Shah Bandar jetty,
You can walk to Shah Bandar jetty from KT bus stop, 
it's a 5-10 minute walking distance.

3.Bus for Merang Jetty
If you are staying at  Redang Pelangi Resort, 
you need take speedboat at Merang jetty, 
4. After Get Off Bus
After you arrive at bus stop, 
you can take a grab car or taxi to get to jetty.
Or you could add on bus stop to Merang jetty 
transport service from your travel agency.
It is a 35 minute car distance journey.
Price is RM30 per person for 2 ways. 
Driver will pick you up from the bus terminal, 
and drive you to Merang jetty on day 1. 
On your last day in Redang, 
they drop you off back to the bus stop from Merang jetty. 
Method #3: To Redang by Car
If you live near Kuala Terengganu, 
driving to Redang Jetty yourself is a good idea. 
You will be able to stop at anywhere to have a rest,
or grab a good seafood meal on the way to Redang Jetty
There are plenty of car parking lots near jetty. 
Parking fee is RM10/night.
Your car will be safekept.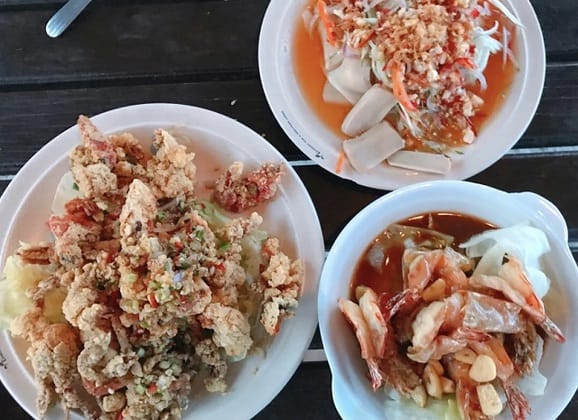 Method #4: Arrive 1 Day Earlier
If your are unable to catch a Flight to Redang arrive at early morning, 
consider arriving at Redang Jetty one day earlier. 
You could stay overnight at Kuala Terengganu town.
You could rest at a hotel near Redang Jetty.
Hotels there is quite cheap, 
The price is about RM 50 to RM100 for 1 room.
Pros
In this way, you can arrive at Jetty at any o'clock.

You could have a half-day tour in Kuala Terengganu town.

You could rest very well before getting into Redang Island.

You have more energy on snorkeling trip on day 1 inside Redang.

While people using other transport method to Redang need time to recover from the tiredness of transporting.
Let's Sum Up
All roads lead to Redang.
It's fast and comfortable to go to Redang by Flight;
Go to Redang by Bus is cheapest and best for big group travellers;
If you live near Redang jetty, get to Redang by Car is a good idea.
Last but not least, if you want to rest well and have more flexibility in schedule, Arrive at redang jetty one day earlier is
a wise choice for you.
Have a Safe trip to Redang!

Read More:
2 Ways to Buy Cheap Redang Package 2021
Know Redang Package in 5 Minutes
What is Redang Island Marine Park
7 Reasons to Visit Redang Island
10 Must-have Items in Redang Trip Packing List
7 Reasons to Visit Redang Island
How to Know If a Redang Travel Agency is Reliable
Popular
Redang
Resort Packages:
Redang Holiday Beach Villa Resort
Have you tried going to Redang using the above methods?
Or any other ways? 
Share your experience in the comments!