This post is also available in:
English
Sabah is one of the nicest place to visit in Malaysia.
Semporna is the departure point of Sabah's top diving sites including Sipadan, Mataking, Pom Pom, Kapalai and Mabul Island.
This article will explain how to get to the Semporna in 3 simple steps.

1. Arrive at Sabah, Tawau Airport
the Airport in semporna is called Tawau Airport ( TWU)
Recommended airlines to Tawau Airport include AirAsia and Malaysia Airlines.
Depart from Kuala Lumpur (KUL)
Tawau division is well connected to Kuala Lumpur through plenty direct flights.
Approximately 2.5 hours of flight time.
It is most convenient to get to Tawau from Kuala Lumpur.
Depart from Singapore 
Since no direct flights from Singapore to Tawau Airport, you will need to take a connecting flight.
Here are the three routes you can choose from.
Route 1: Singapore- Kuala Lumpur – Tawau Airport
Route 2: Singapore- Johor Bahru Airport- Tawau
Route 3: Singapore- Kota Kinabalu Airport- Tawau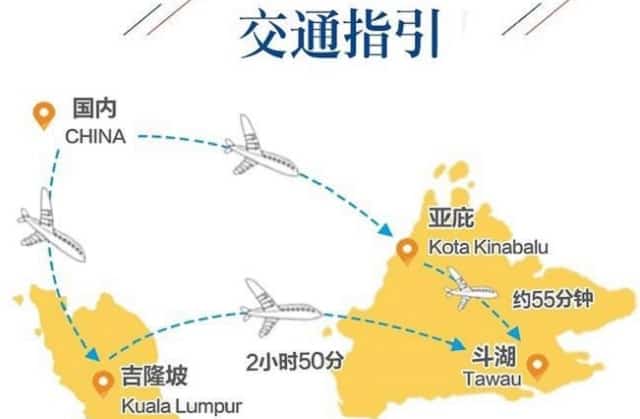 Depart from China
Flights from China do not fly directly to Tawau Airport (TWU), so you need to transit to reach semporna.
The following are two routes you can choose from.
Route 1: China- Kuala Lumpur- Tawau
Route 2: China- Kota Kinabalu Airport- Tawau
Departing From Kota Kinabalu (BKI)
It takes about 55 minutes.
There are fewer flights, the flight time is short.
Departing From Sandakan (SDK)
It takes about 40 minutes.
Although it is a short flight time, there are fewer flights from Sandakan to Tawau than Kota Kinabalu.

2. Arrive at Semporna     
After reaching at the Tawau airport, you can move to Semporna Jetty.
It takes approximately 90 min to take a taxi from Tawau Airport to Semporna Jetty.
You will have pre-arrange transportation from Tawau airport to semporna and back with the resort or diving company.
Or you can find a taxi at the airport, there is pre-paid Taxi counter at Tawu Airport.
From Semporna jetty, guest can be transported on a speed boat to various islands.
You can choose 1 from below three routes.
Route 1: Direct boat to Islands
Arriving at Tawau Airport, you could get to semporna jetty at once.
Then take a boat directly to the destined island when time permits.
Route 2: Stay at Semporna Town
For traveler who prefer budgeted accommodations could choose a hotel in semporna town.
you will save some money if staying in hotel of semporna town than resorts in semporna island.
Route 3: Stay at Town for 1 Night and Get into Island the Next Day
Many tourists choose to spend 1 night at Semporna Hotel in town.
some of them choose this way because their flight time does not match the boat time from semporna jetty.
in this way, You will have more time to rest, save some energy.
and only enter the island from Semporna Jetty the next day.
Some tourists choose to spend the night in Tawau Province for 1 night instead.
Because it only takes 35 minutes to drive from the Tawau airport to Tawau Province.
But it took 1.5 hours from Tawau Province to Semporna Jetty the next day.
You can choose between Tawau Province and Semporna town by your own liking.

Conclusion
To enter the islands in sabah, you need to take a plane to Tawau Airport, then take a car to Semporna Jetty, and last take a boat to enter the surrounding islands.
Some may think it's a fuss of transportation, but everything is worth it when you explore the charm of the islands near Semporna.
you can choose to enter the Semporna island directly. or spend  1 night at semporna town and enter island the next day.
Have you been to  the town of Semporna?
Welcome to share your experiences with us~