Kapas island  is such an awesome place in Terengganu.
It is an island with a calm atmosphere. 
Crystal clear water and white sand, plus the weather in good season is fabulous.
You can take a boat from Marang Jetty to get into Kapas island.
The journey from jetty to the island only takes about 10-15 minutes only.
This article explains the 3 transporting methods to get to Kapas island jetty.

1. By Flight
The airport of Kapas island is Sultan Mahmud Airport (TGG).
Recommended airlines are Airasia, Malaysia Airline.
Many tourists would take flight to Kapas island , because it is convenient and time-saving.
From KL
It's about 45 minutes flight time From KL to TGG airport.
From Singapore or Johor 
It is recommended to fly to Terengganu from Senai Airport (JHB) in Johor.
It takes about 1 hour from JHB to TGG.
Transport to Kapas Jetty from Airport
After arriving at TGG airport, you could take taxi or grab to get to Marang jetty.
The journey takes 40 minutes.
You could add on this land transfer service in Kapas packages as well.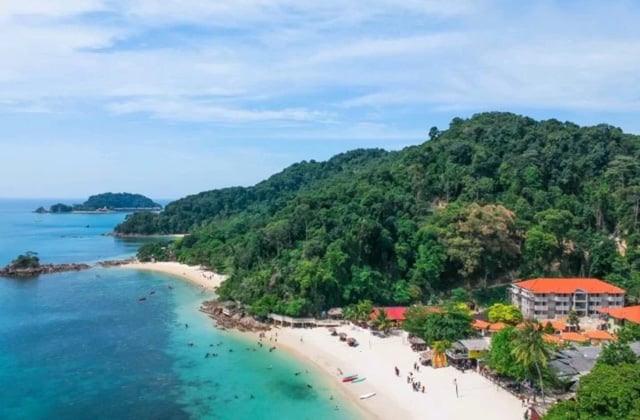 2. By Bus
Bus is also a good way to get to Kapas island.
Some buses stop right at Marang jetty, while some may need a little walk to jetty yourself.
Bus usually departs at the night before check in day.
You could get bus ticket online or purchase at bus ticket counter.
From KL
It takes 6 hours from KL to Kapas  Marang jetty.
From Singapore/ Johor
It takes 9 hours to Kapas Marang jetty.
You can find a bus who stops right in front of Marang jetty.

3. By Car
If you enjoy the fun of self-driving, then go Kapas island by car is best for you.
During the journey, you can visit some scenic spots, and stop and rest anywhere you want.
Car is convenient and flexible.
Unlike public transport, you get to share this journey with you travelling buddies in car.
From KL
It takes approximately 5 hours to arrive Kapas Marang jetty.
There are parking lots at Marang jetty.
Parking fee is RM 10 plus per day.
From Singapore / Johor
It takes about 9 hours from Singapore to Kapas island.
And it'll take 6 hours to reach Kapas Marang jetty from Johor.

Conclusion
Kapas island is nice for those want to experience island for short time vacation like 3 to 4 days.
You could get to Kapas Marang jetty by Flight, Bus or Car.
Travelling to Kapas island by flight is favored by most tourists.
Bus is suitable for backpackers, student and groups.
Car is best for people who like road trip.
Be sure to make your return arrangements (day and time) in advance too.
Read More:
Topic 2: How to get to Kapas Island
Topic 3: Best Seasons in Kapas
Topic 4: Best resort in Kapas Island
Topic 6: Activities in Kapas Island
Top Kapas Packages:
Which way could you prefer to get to Kapas island?
Share with us in the comment!