Walking Street is a must-visit place in Koh Lipe Island.
It is one simple and nice street where you can find everything for beach life: with restaurants, bars, massage, shops, stalls, hostels, clinic and everything.
Walking street is super happening at night.
You will see many shops and bars open for business.
Food & Restaurant
Walking Street is a food paradise.
It is filled with bars and restaurant with delicious foods enough to fill your belly.
Many good restaurants can be found on Walking Street of Koh Lipe .
I once had the best roti at the Muslim restaurant on walking street close to 7-Eleven.
Walking Street has many seafood restaurants, Thai and Western food restaurants.
You can go to different restaurants to enjoy meals every day.
Read more: How to get to Kuah Jetty>>
Massage Shop

In addition to food, there is also a lot of massage shops on Koh Lipe Walking Street.
Such as Thai massage, essential oil massage, etc.
After snorkeling and diving all day, you must come for a massage at night.
The full body massage is also super relaxing.
There are many massage shops on the walking street, and the prices are usually very affordable.
Read more: Best Time Travel Koh Lipe>>
Nightlife

The nightlife on Koh Lipe walking street is definitely colorful.
You will definitely enjoy the night with your friends.
There are different styles of bars are in Walking Street.
In the evening, enjoy some cool drinks and music with friends,
If you like the excitement, you can see the fire show held by the bar on the beach of Koh Lipe .
Dive Shop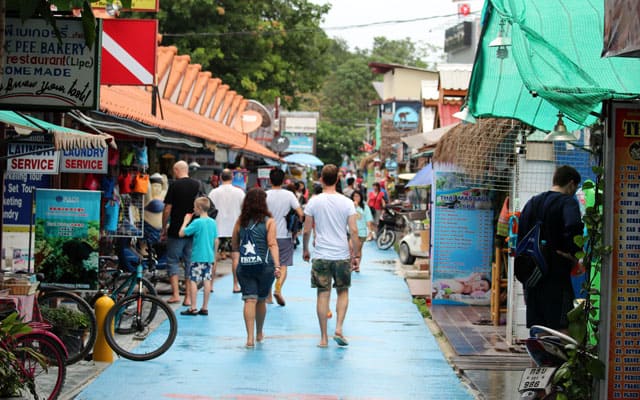 Diving and snorkeling is a must try activities in Koh Lipe.
Koh Lipe Walking Street has some diving shops with super professional team and course.
You can find a dive shop for the packages, snorkeling, island hopping or diving.
If you want to get a diving license,  you could get a PADI course here too.
Read more: Things to do in Koh Lipe Island>>
Stalls

There are many stalls in Walking Street sell handicrafts, and the price is worth it.
They are in cute or peculiar patterns.
You could buy handicrafts as a souvenir to your friends. They sell key rings, bags, accessories, etc.
There are also stores for clothes, swimsuits, waterproof mobile phone bags.
There's one convenience store 7-Eleven, you could get snack, soft drinks and other necessities here.
Pharmacy / Clinic

There are pharmacies and clinics on Walking Street as well.
In case someone got sun burn or emergency, there are always some help you can get.
You could buy sunscreen and bug spray at pharmacies.
Read more: Top 3 Beaches in Koh Lipe Island>>
Accommodation

Many backpackers choose to live in the backpack inn or hostel on Walking Street.
Because the price is relatively cheaper than resorts on Koh Lipe 3 main beaches.
For Walking Street accommodation, you can consider Harmony Guest House or The Chic Lipe.
Read more: Top 5 Resorts in Koh Lipe Island>>
People
The locals are very helpful, nice and friendly.
You could always find new friends and go to dance and sing in Walking Street.
You will definitely love the super good atmosphere and lovely Thai people.
Read more: How to get to Pakbara Jetty>>
Conclusion
Koh Lipe Walking street is a very happening small street at night.
You get from a Thai massage to diving lessons, and some really good food and drinks.
In Koh Lipe peak or high season, Walking Street is insanely busy at day and nights. You won't feel boring visiting here.
Read More:
Topic 1: How to get to Kuah Jetty
Topic 2: How to get to Pakbara Jetty
Topic 3: Best Time Travel Koh Lipe
Topic 4: Koh Lipe Top 5 Best Resorts
Topic 5: Things to do in Koh Lipe
Topic 6: Top 3 Beaches in Koh Lipe
Topic 7: Top 7 Best Things in Walking Street
Popular Koh Lipe Resort Package: